Specialised and certified in recycling
Schotte has an extensive network within the metal recycling industry and is therefore continuously informed of the stock and market prices. As a client, you are therefore guaranteed fair and competitive prices for the purchase and sale of your metals.
Schotte has its own trucks and containers in various sizes for the collection of scrap. The scrap is then transported to recognised processors, where the scrap is processed if necessary.
For companies in the Netherlands engaged in the transport, collection, trade and/or mediation of industrial or hazardous waste, it is mandatory to be listed on the national VIHB list (Vervoer Handel Inzameling Beheer Registratie or Transport Trade Collection Management Registration). Schotte is included on this list, which serves as a guarantee that Schotte collects and stores waste in a legally permitted manner.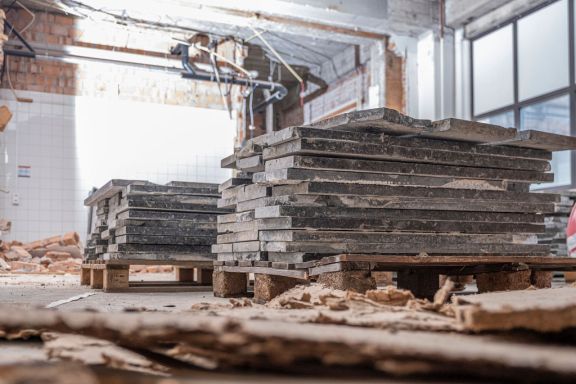 MSO CIRCULAIR
Within the MSO Group, Meuva, Schotte and Oranje work together on the demolition, disassembly and remediation of various projects. In our work we come across materials that are still very useful. The circular materials of Meuva, Schotte and Oranje are offered on one platform: MSO Circular.
MSO Circular is an example of our contribution to a sustainable (construction) world. An initiative that countless entrepreneurs and institutions are already using. From building materials to furniture, from equipment to doors, skylights and entire floors, we offer all usable materials for reuse.
Circular construction is the future, and that future starts today. Our circular range can be found on Oogstkaart and Marktplaats and changes every day. Start the sustainable future today and go to: