Our company
Schotte was founded in 1930 as Firma W. Schotte, Aannemers van sloopwerken en handel in bruikbare materialen. After the war, the company developed rapidly, because many remnants from the war had to be demolished. The trade in usable iron such as beams, slabs and piped dominated the company.
From 1970 the emphasis shifted to larger demolition projects. In those years, Schotte carried out various complex and leading industrial projects, not just in the Netherlands and Belgium, but around the world. As a result, Schotte developed into a major demolition company.
Today, Schotte is a reputable, modern and fully certified company that meets all contemporary requirements for the demolition, dismantling and/or disassembly of industrial and civil structures.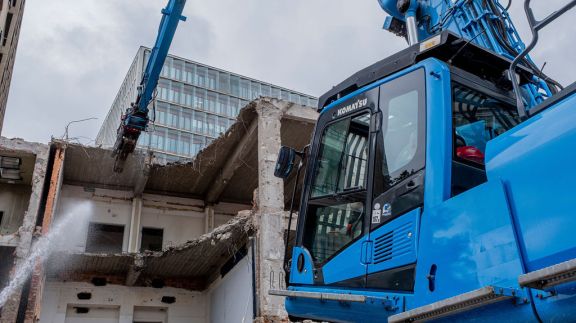 Mission
Schotte is a solid and honest service provider and employer in the field of demolition, dismantling and/or disassembly of industrial and civil structures. We do this in a customer-oriented and progressive manner, whereby we strive for sustainable relationships with our clients and employees. We see craftsmanship and delivering quality as a personal conviction. That is why we offer our employees opportunities to develop themselves and give them room to be enterprising.
Vision
We continuously try our best to optimally serve our clients and meet their wishes. Corporate Social Responsibility and offering great service and quality at a competitive price are our starting points. By continuing to think and act innovatively, we get more and more returns from our projects. Schotte encourages reuse. This unburdens the environment and saves our clients money.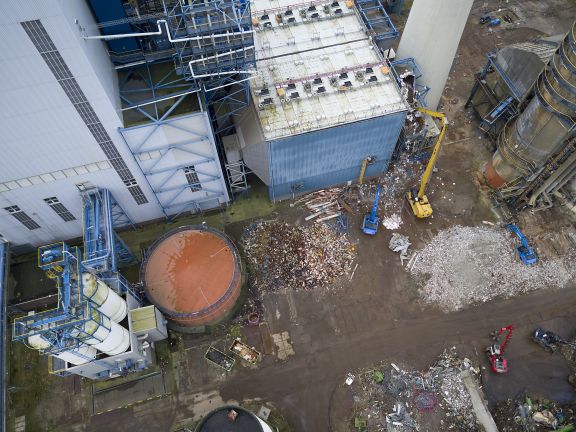 Approach
Schotte attaches great importance to service, quality, safety and the environment. We make sure that we can optimally serve our clients and meet their wishes at all times. Every project is carried out efficiently and with care based on a pre-defined plan of approach.
The plan of action contains a detailed work description, supplemented with risk analyses, a description of the working method, a project planning, drawings, materials to be used and an overview of any subcontractors. If applicable, we draw up a soil remediation work plan. The work plan is available with the contractor at the demolition site. The client also receives the work plan. This allows the client to follow Schotte's demolition work in detail.
Experienced project leaders supervise each project intensively. In a project that includes a soil remediation project, the supervision is the responsibility of the HVK. (Hoger Veiligheids Kundigeor Higher Safety Expert)
Thanks to the transparency Schotte offers you with the plan of action, years of experience in demolition work, and the professionalism and drive of our employees, Schotte offers its clients a complete solution, where quality and care are the starting points.
Industries
Schotte is a reputable and modern demolition company. As a specialist in demolition, disassembly, dismantling and environmental work, we offer turnkey solutions worldwide in:
Chemical and petrochemical installations
Power plants
Pharmaceuticals
Aviation
Food industry
Tank, storage and transhipment companies
Hospitals and healthcare institutions
Residential objects
Thanks to years of experience, Schotte is known in almost all industries.
Schotte is familiar with almost every production process in the industrial sector. Whether it concerns refineries, chemical plants, steel plants, food plants, power plants, aviation, or individual tanks, boilers, columns, stoves, turbines, reactors, structures, chimneys, buildings or foundations.
The civil sector also holds no secrets for Schotte. Over the years, Schotte has carried out both very large, complex and smaller assignments and projects for many companies, residential properties, hospitals and healthcare institutions.
Part of the MSO Group
Being part of the MSO Group is all about strengthening each other. Meuva, Schotte and Oranje combine knowledge and equipment to be able to offer you as a client a complete solution. By joining forces in knowledge, experience and services, we fully unburden clients from demolition to preparation of sites in the industrial and civil sector. We proactively contribute to a circular economy by investing in technology and innovation, in order to return more and more of the demolition materials released to the chain in a high-quality manner.